In the Spotlight  Frangipani Langkawi Resort & Spa, Langkawi, Malaysia
Malaysia's Greenest Resort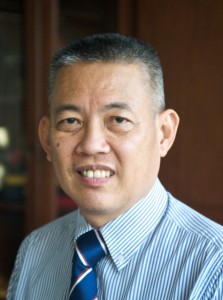 The Frangipani Langkawi Resort & Spa is a four-star beachside resort that opened in 2006 along one of Langkawi's best beaches, Pantai Tengah (the Resort operated under another name for several years before). It is owned by Malaysian company Tapak Pelangi Sdn Bhd. It is the first resort in Langkawi to implement Green practices to preserve the environment.
In this interview, Managing Director Mr. Anthony Wong Kim Hooi, an avid environmentalist and a champion for sustainable tourism, provides insights into best practices adopted by the resort which has the distinction of being the Greenest Resort in Malaysia.

SOST: The Frangipani Langkawi has the distinction of being the Greenest Resort in Malaysia. Please explain.
Anthony Wong: Langkawi's number one attraction is the water of the Andaman Sea and protecting this tourism asset was always of highest priority when the owners took over the resort. So the Resort set out from its inception to not only offer the best accommodation it could and with the best local service but the priority was to establish a green resort that would lower its footprint on the environment, and also be a working model for others to gain inspiration from and to emulate.
Keep Langkawi Clean & Green. That is our mission. The Frangipani has committed to keep the island clean and green from water pollution, air pollution and soil contamination by implementing Green practices throughout the resort.
We have an established sustainability policy encompassing 200 Green practices, covering all departments and all areas from day to day operations to architecture design of the building. The Frangipani practices energy and water conservation, composting, recycling, sewage treatment using water plants as natural filters, as well as an organic farm.
Our resort is an avenue to create awareness, educate and change the mindset of the industry and the public to find ways to conserve energy and be environmentally conscious of their actions. If we are able to inspire even one person, then all the time, effort and energy taken would have been worth it, as that one person can inspire others causing a ripple effect to the benefit of the environment and our Mother Earth.
Save Water, Prevent Water Shortage. From rain and air conditioner water harvesting to black and grey water treatment, the resort is trying to save the country from future water shortage.
We make a concerted effort to share our learning and best practices with industry, academia, students and the public around the world.
There will be a time very soon when due to population growth, economic development, climate change and global warming, Malaysia might face drought problem nationwide. The resort as a leader is championing for other hotels and industry to follow suit in preventing water shortage because we need total mobilization from all quarters to achieve this vision.
Our achievements have been recognized globally and we are the proud recipients of several environmental and industry awards such as the PATA Gold Award, Malaysian Tourism Award and the ASEAN Green Award.