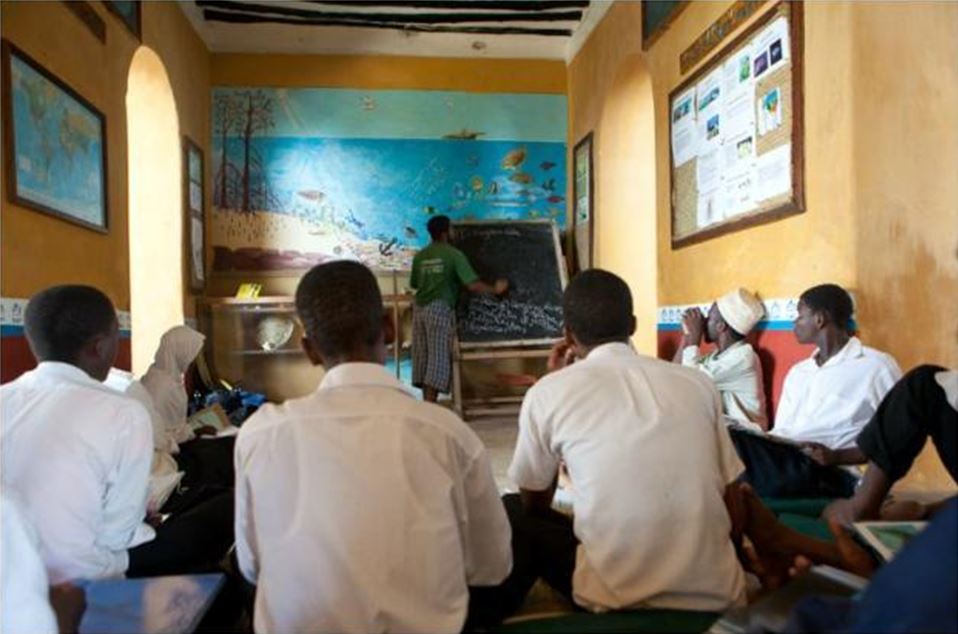 In 2001, Chumbe Education Program developed to the extent that a module on "The Coral Reef", produced by CHICOP, was recognised by the Ministry of Education as an official teaching aid.
The program was expanded to encompass Teacher Training workshops and evaluation seminars, where teachers were trained to link learning experiences with the Science syllabi in particular.
Since 2004 CHICOP has increased its outreach work within schools, which has so far proven to be extremely successful.  Not only have schools fully participated in the field excursions but have also shown great enthusiasm to undertake more field based, hands-on, extra-curricular learning back at the schools. 
Working with the Ministry, CHICOP is now developing modules following the initial format of "The Coral Reef Module" for subjects ranging from "Eco-tourism" to "Biodiversity, "Eco-technology" and "Conservation". This will give teachers and students a concrete model on how to make classroom teaching more relevant to the environment, and create awareness on coral reefs and coral island ecology that is badly needed in Zanzibar.
The whole of Chumbe Island is a nature reserve and there are a number of activities available on and around Chumbe Island such as snorkeling, scuba diving, nature trails and visits to historical monuments.
Since the park was highly recognized for its immense beauty and bio-diversity, there has been almost no fishing or unauthorized anchoring in the Chumbe Reef Sanctuary. The reef remains in a pristine state.
To establish the conservation value and document the terrestrial and marine resources of Chumbe Island for the management of the nature reserve, species lists, short reports and studies have been produced on fishes, corals, amphibians and reptiles, birds, bats, butterflies and vascular plants.
When possible, research is conducted jointly with the Institute of Marine Sciences of the University of Dar es Salaam and the Departments of Environment, Forestry and Fisheries respectively. Additionally short-term studies are regularly conducted by visiting researchers from both National and International institutions.