Organized annually by The International Ecotourism Society (TIES), the Ecotourism and Sustainable Tourism Conference (ESTC) brings together tourism industry professionals from around the world with the goal of sharing ideas, opportunities and solutions for a more sustainable future of global tourism. The 2012 conference was held in Monterey, California, USA, in partnerships with Visit California and the Monterey County Convention and Visitor Bureau, and was attended by 300+ delegates from over 35 countries. SOST was represented at TIES by Managing Editor Kumud Sengupta.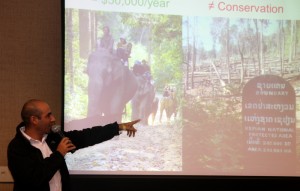 Underscoring the importance of multi-stakeholder approaches to sustainability, the ESTC delegates represented a diverse range of professional fields and industry segments, from government agencies to NGOs, from international tour operators to local community enterprises, from journalists to students. It is through the connections made and partnerships built during the conference – between sustainable tourism experts and budding entrepreneurs, between destination representatives and community development veterans, between green technology providers and conservation managers (and the list goes on) – that the ESTC seeks to inspire positive changes in the tourism industry worldwide.
Lessons Learned and Shared
Throughout the conference, ecotourism and sustainable tourism professionals shared best practice examples and success stories from around the world – from the coastal marine sanctuaries of California to Maasai-owned community conservancies in Kenya; to the "Polar Bear Capital" that is Churchill, in Manitoba, Canada; remote and pristine rainforests of Guyana; breathtaking reefs and marine life in Mozambique's Quirimbas National Park; and the community-driven birding hotspot and emerging ecotourism destination in the Philippines, among many, many more inspiring examples of sustainability at work.
The ESTC presenters and expert speakers focused not only on inspiring ideas and innovative opportunities, but also on practical solutions for industry leaders to implement.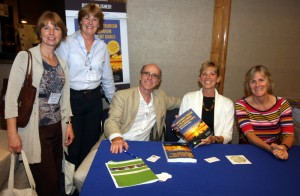 Sustainable Tourism and the Millennium Development Goals
At the ESTC12, TIES' new publication, "Sustainable Tourism and the Millennium Development Goals: Effecting Positive Change" (Jones & Bartlett Learning, 2012) was launched, with the editors and some of the contributing authors sharing key case studies from the book. The Millennium Development Goals (MDGs) are the world's time-bound and quantified targets for addressing extreme poverty in its many dimensions – income poverty, hunger, disease, lack of adequate shelter, and exclusion-while promoting gender equality, education, and environmental sustainability.
The book highlights best practices in sustainable tourism businesses, and projects that contribute in a tangible manner to these goals. The case studies presented at the ESTC12 include: climate impact assessment of safari tourism in Namibia; wildlife conservation and volunteer travel projects by SEE Turtles, a non-profit ecotourism project supporting community-based conservation through tourism; and tourism's impact on community health and well-being, through the eyes of host community members in Fiji.