Built in 2005, Villa Awang Awang is located near Ubud in Bali and owned by a retired psychiatrist and his wife. Awang Awang means "floating in the space between heaven and earth" – the perfect description for the property, perched dramatically on the edge of a deep ravine with breath-taking views of the sacred Petanu River and the lush tropical forests that clad its banks.In this interview Ann Schioldann, co-owner shares with us their sustainability policy and ecologically friendly practices.
What was the motivation behind setting up such a project in Bali?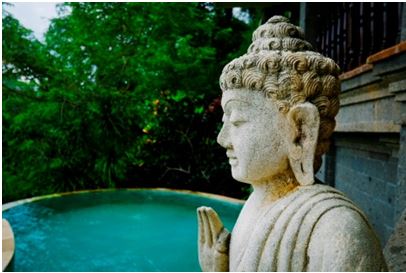 What was the motivation behind setting up such a project in Bali?
We were concerned about a number of issues that Bali has been facing. These include the loss of agricultural land, over-development, deforestation, diminishing water supply, inappropriate waste and sewerage disposal air and water pollution.
This is the reason why we decided to build Awang Awang in 2005. It is an eco-friendly villa, in which the decor comprises unique pieces of antique furniture from Bali, Java and Lombok, local artwork, traditional weavings, carvings, statues and antique shadow puppets.
Does Awang Awang have an established sustainability policy? What are the key tenets of this policy and what measures are taken to monitor performance and progress in meeting sustainability targets?
We endeavour to minimise the impact on our surroundings and be eco-friendly by the use of aerobic sewerage treatment (Indo-Bio), which enables waste to be recycled to the gardens. We also use a pelton wheel near the river to run a small turbine for elecricity.
Windows and doors are constructed in a way that uses a simple pivot system to catch the river breeze and eliminate the need for air-conditioning . In order to minimise chemical use, the pools are sterilised by silver ionization. We do not use any poisonous sprays or mosquito fogging.
We have a no-plastic policy and therefore toiletries are supplied in refillable ceramic containers. Drinking water is supplied in large 20 liter containers, that are refillable.
In order to save water and electricity, bed linen is only changed every 3rd day unless specifically requested by guests. We replace towels when guests leave them in an appointed place.
All waste is sorted and either recycled or composted. We have a replacement program with LED light bulbs. In order to reduce traffic and fuel usage, we provide a fixed time shuttle service thrice a day for the 10 minute trip into Ubud, our nearest town. Bicycles are also encouraged to be hired at a minimal cost .