Mission Hills has a total of 15,000 direct team members (inclusive of 4,000 caddies) from 20 different countries, and 30 provinces and regions in China. There are also over 20,000 contractors and business partners that are indirectly working with Mission Hills and whose livelihood is built around our new developments.
Mission Hills recognizes the importance of the environment and the impact it has for our future generations. As mentioned, more than US$48 million has been spent on the implementation of various sustainable environmental programs. Some of our sustainable initiatives over the years include: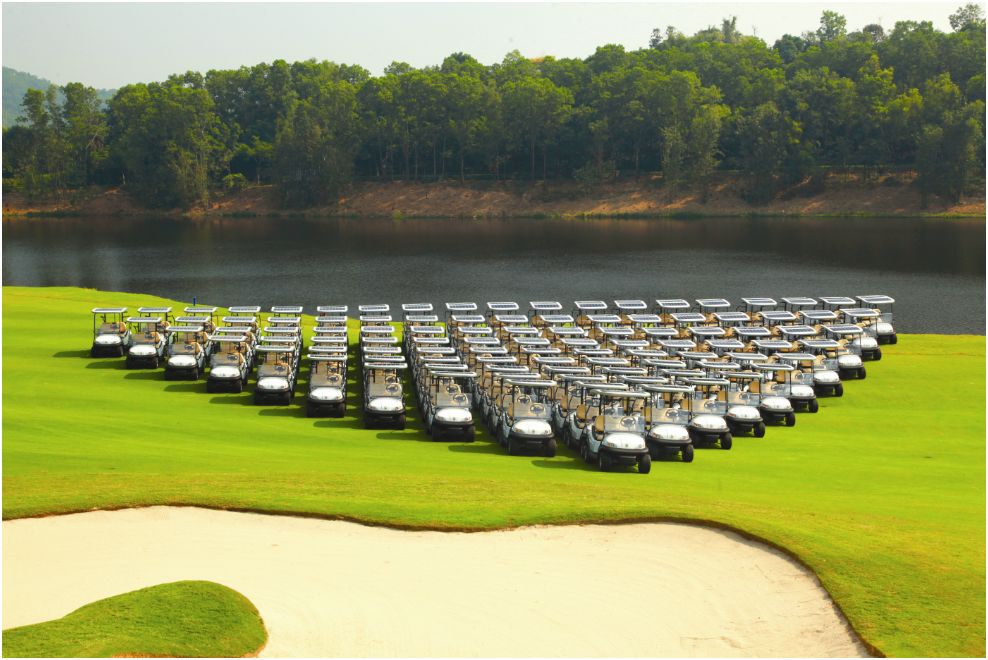 Plantation: Planted 280,000 square meters of trees and flora, including over 4,000 shrubs and over 100 different indigenous species.
Fertilisation & Insecticide: In addition to embarking on the largest ever natural fertilizing program in Southern China, grass trims are collected and reused as fertilizers for organic plants in our green houses. Other natural fertilizers are used for the golf courses and the landscaping areas are treated with slow release, non-toxic formula to prevent overdose.
Herbicide, insecticide and fungicide are all chosen based on compliance with the environmental requirements of the US Agricultural Department. To minimize their use, we selected maintenance-free grass that best suit the weather, and implemented a "Caddies De-weeding Program", thereby reducing the use of herbicide by 50%.
Water Preservation: We used Rapid Infiltration System along with a biological water recycling system to filter and purify wastewater for repeated irrigation. Water sources within the development are built in an enclosed environment, such that all used water is treated and reused. 90,000 sq meters of reservoirs and water tanks are built as water catchments and this waterscape is used to nurture the plantation and the courses. This significantly reduces the overall water usage in the whole development and a minimum saving of 3.5 million cu.metres of tap water consumption is achieved which is equivalent to water consumption of 250,000 families in a month.
Solar Power & Heat Management: Solar energy is used in all houses on the courses and street lamps that light the entire property. We used heat recovery from air-conditioner to heat the water. These result a minimum saving of 2.56 million kilowatt hour consumption per year which is equivalent to electricity consumption for 13,000 families in a month.