Munduk Moding Plantation is located in Gobleg village, North Bali. The area is largely agricultural and produces most of the coffee and vegetables consumed on the island. Munduk Moding Plantation was built on a poorly maintained coffee plantation and started operations in June 2009, with all the staff recruited locally. In this interview, Mr Gede Suparwata, member of the management team shares with us Munduk Moding Plantation's sustainability policy and their ecologically friendly practices.
What was the motivation behind setting up such a project in North Bali?
The basic idea underpinnng Munduk Moding Plantation was to set up a high end boutique resort practicing sustainable tourism and demonstrating to its guests, staff and the people of the area that luxury tourism can benefit the environment and the local population while allowing guests to get much closer to the nature and culture of the area, thereby enjoying a tailor made experience.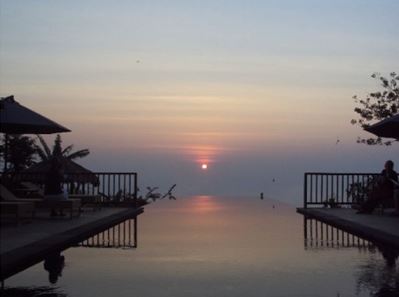 International tourism is new in this region, therefore Munduk Moding Plantation aims at empowering the local population by demonstrating them that sustainable tourism is in their interest, respects the local culture and helps promote a better environment. We greatly enjoy the challenge of achieving this objective and hope that our success will serve as a source of inspiration to other operators on the island.
What makes the plantation unique? What makes it ecologically friendly?
Munduk Moding Plantation is the only high end accommodation in this area. It is probably the only luxury resort in Bali based on a working coffee plantation, with a dedicated jungle area, practicing sustainable agriculture and involving the local community to the extent we do.
We offer all our guests the "Munduk Moding Plantation experience programme' which allows them to explore different aspects of the culture and nature of this part of the Island. Munduk Moding Plantation probably also has some of the best views on the Island: located at 1150 meters, on a clear day, guests will be able to enjoy unparalleled views of the coast line of Northern Bali and the Volcanoes on Java.
Since the very beginning, Munduk Moding Plantation has committed to preserving the nature and culture of this part of the Island, which undoubtedly are the two major keys to develop eco-tourism in Bali. As a small plantation on just five hectares Munduk Moding has decided to keep all of its trees to feed enough water to the spring on the site which is used by the plantation.