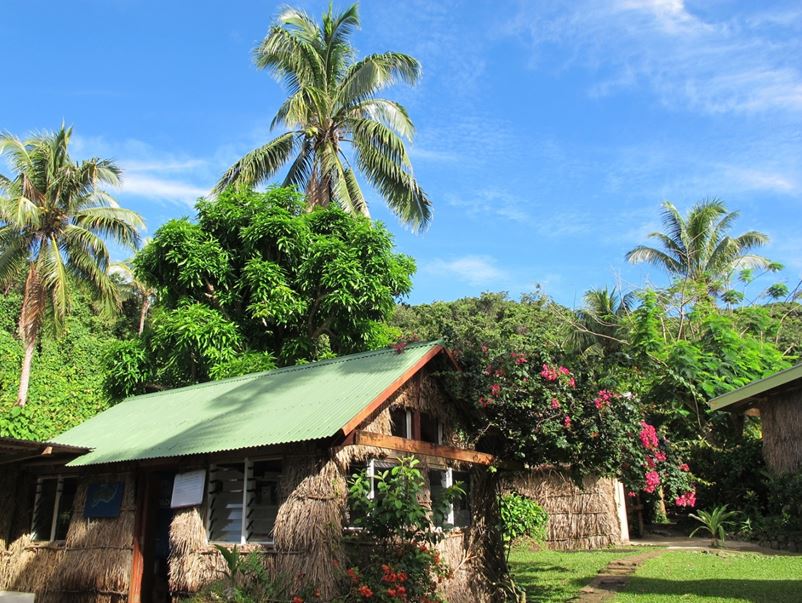 Lighting to the bures is also all solar powered and run on 12V. The lights will not work during daylight hours as the system is charging.
There is no 240V AC power in any of the bures at all.
Solar Hot Water
All accommodation is supplied with hot water derived from solar energy. Hot water should be available to guests 24hrs a day. Back up propane heaters deal with periods when the solar is not sufficient.
Organic Farming
Meals at Matava are a unique blend of local and international cuisine. The menu takes advantage of local seasonal delicacies and the day's fresh produce.
The need associated transportation carbon emissions is minimised by maintaining a large organic garden in the resort to import vegetables with grounds. In addition, we supply local village farmers with seeds and then
purchase the fruit and vegetables from them. Many fruit trees such as banana and papaya are scattered throught the grounds. Our bee hives are kept primarily for polination however yu will enjoy the wonderful honey 'by product' at breakfast. Bread is baked daily and the resort. Fish served have usually been caught that day by the resort's game fishing boat.
Land Management
Areas of land around the resort are left uncultivated to encourage the growth of native wild flowers and ferns. Part of the resort foreshore is naturally a mangrove shoreline and has been left untouched. Mangroves prevent erosion and provide sanctuary to juvenile fish.
No insecticides or herbicides are used on the property. Any plants found around the resort are native to Kadavu and Fiji or already found on the island.
Water
The primary reason for the location of Matava Resort is the abundance of natural spring water. During the drought of 2003, it was one of only two locations on the South of Kadavu island that still had a water supply.
The water is naturally filtered through the limestone and is of excellent quality. Nevertheless, rainwater is still collected at certain locations and used to supply the organic garden and supplement the supply to some of the Oceanview bures.
Buildings
All resort building structures are built using locally grown pine or hardwoods planted for that purpose. They are then finished using traditional methods of thatching and palm weaving. Local wild hardwood trees are not used for lumber. All grey water is piped out to rubble drains for flowers and plants. Bures are
designed and orientated to benefit from shade and sea breezes for cooling.