Misool Eco Resort is an exclusive dive resort and conservation centre located in remote southern Raja Ampat, Indonesia. The private resort island is nestled deep in an archipelago of uninhabited islands, in the very epicentre of marine biodiversity. One's stay at Misool Eco Resort directly supports its numerous conservation initiatives and provides sustainable employment opportunities to local people, entirely decoupled from the extraction of marine resources.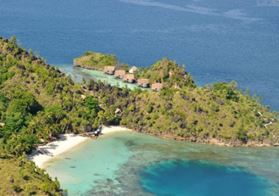 Misool Eco Resort is an intimate tropical hideaway, built on a private island in an archipelago of uninhabited islands. It is 165 km away from the nearest port and 20 km away from the nearest village by boat, blissfully secluded and largely untethered from the modern world. No light pollution, no noise pollution, no mobile phone signal… in fact there is very little to distract the guests from the surrounding natural beauty.
 
The resort island is leased from the local community, along with 1220 sq km of surrounding reefs. All the dive sites are inside this area, which means the reefs are just astounding… gorgeous corals, massive sea fans, patrolling reef sharks, pygmy seahorses, schooling tuna, giant manta rays etc.
Inspiration and purpose
The inspiration to open Misool Eco Resort was the spectacular natural beauty of Raja Ampat. The scenery, both above and below the water, is breathtaking.  This is the heart of marine biodiversity, and there just are no richer reefs on earth. The underwater world here is still pristine, and visiting is like stepping through a portal into an different time, before the global pressures of overfishing, shark finning, and human overpopulation were rife.
The resort opened in 2008 on the site of a former shark finning camp. Owners' respect for the natural surroundings and their commitment to the local community defined the way the resort was built. No lumber was bought and instead their own sawmill 
was set up. When it opened, over 600m3 of reclaimed tropical hardwood had been milled. Local labour was used as much as possible, and apprenticeship programs were created  to train the staff. Many of the waiters, dive guides, and housekeepers started at the resort years ago as unskilled labourers.