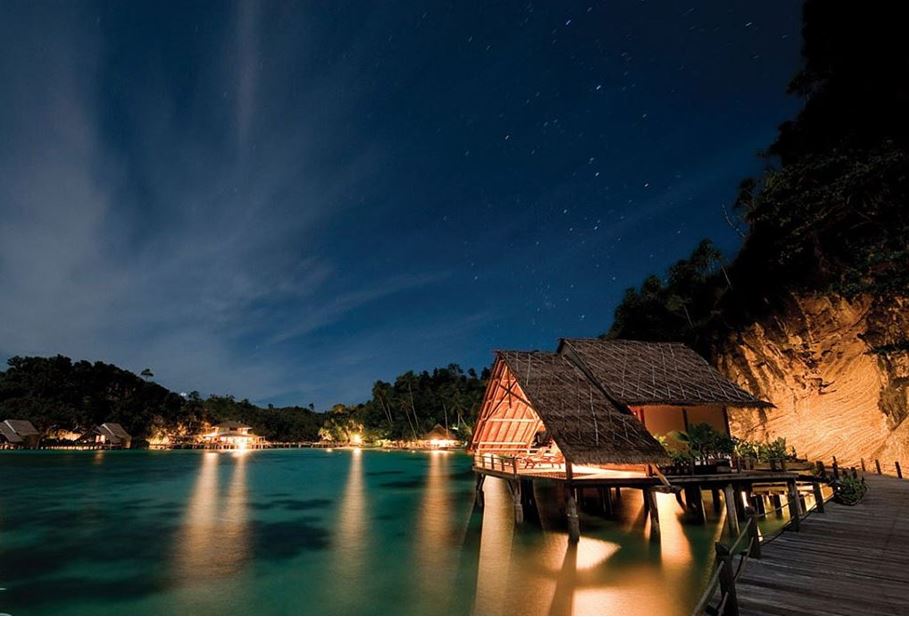 Accommodation
Misool Eco Resort was built entirely of reclaimed tropical hardwoods, milled on site with its own portable sawmill. The accommodations have been meticulously designed for comfort, privacy, and sustainability. All  accommodations feature Balinese-style open air bathrooms, air-conditioning, fresh hot and cold showers, mini-bars, in-room safes, and handcrafted furniture and fittings.
The eight rustically luxurious Water Cottages are located in the North Lagoon. The Water Cottages are built on stilts over the water. The view from the veranda is framed by a traditional grass roof, offering a high degree of privacy as well as shade.
There are a number of spacious  villas and a residence available for the guests, as well. 
Conservation
Over 120 staff are employed, most of whom come from the nearby villages of Misool. Sustainable employment opportunities are offered, entirely decoupled from the extraction of marine resources.
Misool Eco Resort's Conservation Centre is a registered Indonesian charity called Misool Baseftin. Their joint mission is to safeguard the future of the most biodiverse reefs on earth by empowering local communities to reclaim their traditional tenureship of reefs.
At Misool, it is believed that sustainable tourism and community-based conservation are mutually beneficial.
Misool Baseftin means 'Misool: We own it together' in the local tribal language. The foundation maintains a broad approach to conservation, combining environmental, social, and educational elements. One of Misool Baseftin's main projects is operating the Ranger Patrol and protecting Misool Eco Resort's No-Take Zone.
Ranger Patrol
The 828 sq km No-Take Zone is patrolled by Misool's team of 10 local Rangers. Using 2 dedicated boats, the Rangers enforce the regulations of the area, which include a complete ban on fishing, netting, shark finning, harvesting of turtles or their eggs, bombing, use of cyanide or potassium borate, etc. Thanks to diligent and relentless patrolling, the incidence of infractions is now extremely low.
Kindergarten Project, Fafanlap
In late 2010 Misool expanded it's No-Take Zone to encompass the Daram Islands to the east. As part of the lease agreement with the local community and in partnership with Seacology and WildAid, it was agreed to build a kindergarten in Fafanlap village. Construction started in late 2011, and the kindergarten is now functional. 
Misool Manta Project
In August 2011, Misool's team began sifting and collating several years' worth of photos and videos from the nearby manta cleaning station. Using the distinctive markings on the manta's belly, they have identified individuals and created a database. This contributes valuable data to their knowledge of manta migration patterns and behaviour.