SOST Business Directory
SOST announces the launch of its online Business Directory which will accept registrations from eco-tourism businesses and tourism experts.
Please visit the Resources Section on the SOST website to list your business in the specific category.
Also do subscribe to SOST on the website, if you haven't already.
SOST was in Nairobi in September for ESTC13 

SOST was in Nairobi as a media partner with The International Ecotourism Society (TIES) for the Ecotourism and Sustainable Tourism Conference 2013 (ESTC13) held from September 24-27, 2013.
We also presented the highlights of the first Middle East Ecotourism Survey at ESTC13.
The Ecotourism and Sustainable Tourism Conference (ESTC) is a unique annual conference focused on the advancement of sustainability goals for the tourism industry. The ESTC13 was co-hosted by TIES, Kenya Tourism Board and the African Wildlife Foundation, and in cooperation with the World Tourism Organization (UNWTO) and IUCN Tourism and Protected Areas Specialist Group.
The conference program,  including training seminars, networking functions, exhibition and poster session was held at the Safari Park Hotel in Nairobi, which  stands on 50 acres of beautifully landscaped gardens incorporating a wide variety of indigenous trees and offering sanctuary to a startling array of birds and butterflies.
The next edition – ESTC14 – will be held in Bonito, Brazil in April 2014.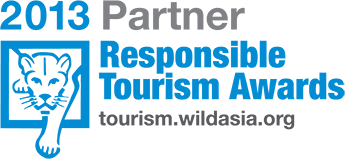 SOST goes to ITB Asia, Singapore
As media partner for the 2013 Wild Asia Responsible Tourism Awards, SOST attended ITB Asia in Singapore, October 23-25, 2013, where the Awards were announced .
The current issue of SOST is a special issue featuring the Award winners and finalists in the section Best Practices in Sustainable Tourism.
SOST Managing Editor led a workshop on the topic Impact Of Sustainability Initiatives On Customer Choice, as part of the Responsible Tourism Clinic at ITB Asia. Details will follow in the next issue of SOST.
SOST DVDs were distributed to exhibitors and delegates at ITB Asia.