SOST Business Directory
SOST announces the launch of its online Business Directory which will accept registrations from eco-tourism businesses and tourism experts.
Please visit the Resources Section on the SOST website to list your business in the specific category.
SOST was at ITB Asia, Singapore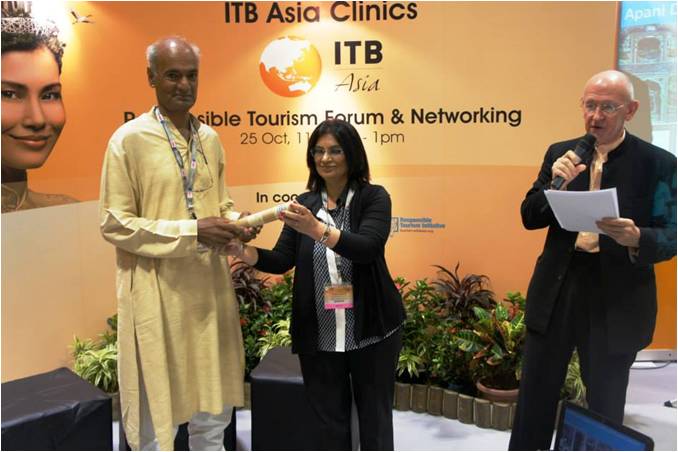 As media partner for the 2013 Wild Asia Responsible Tourism Awards (WARTA), SOST attended ITB Asia in Singapore, October 23-25, 2013, where the Awards were announced .SOST Managing Editor led a workshop on the topic Impact Of Sustainability Initiatives On Customer Choice, as part of the Responsible Tourism Clinic at ITB Asia. SOST October issue DVDs were distributed to exhibitors and delegates at ITB Asia.
SOST was at WTM London in November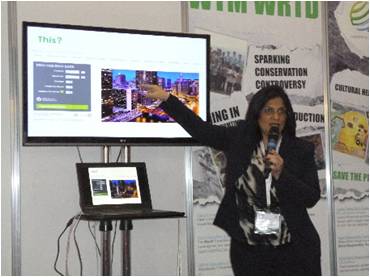 World Travel Market (WTM), the leading international business-to-business event for the travel and tourism industry, is held annually in London, UK. The 2013 edition was held between November 4 to 7 at the ExCel, with over 5000 exhibitors, representing 184 countries.
SOST attended the event which includes a special focus on Responsible Tourism. SOST Managing Editor spoke on Sustainability Tourism Certification and its Impact on Customer Choice, as part of the Responsible Tourism Speaker's Corner series.
SOST attended the Responsible Tourism Awards function and the Networking evening. Details in the WTM Responsible Tourism feature in this issue.
Eco-tourism project between Johar and Malacca
US$215 million for ecotourism project
A co-joint project between Johor and Malacca is set to begin in 2014 with duration of two years. It will include coastal and river development.
The project involves development of a number of seafood restaurants as well as handicraft stores, available to tourists visiting the fishing villages Kesang Laut and Gersik in Muar, and Sungai Rambai in Malacca. Existing jetties for fishermen along Sungai Muar will also be upgraded for tourists.
Sungai Muar has a panoramic view which would attract many eco-tourists after the development. The availability of fireflies, seafood, orchards, homestays and aqua culture would also fascinate the coming tourist and anglers. Local anglers will also benefit from the project. Due to the new restaurant openings, the demands for their seafood catch will increase.
There is a plan to build a resort in Kesang Laut that would attract a large number of tourists, wanting to experience a "seafood paradise".
Visitors will have to option to use boats as means of transportation between Sungai Rambai and Gersik, where local food can also be sold, in order to help the local community. The trip from Malacca to Muar is estimated to take four to five hours.
A homestay program will be developed in Gersik for tourists that would like to experience the peaceful, relaxed and simple life in the area. They will be able to return to Malacca on a boat next day.
Source: http://www.nst.com.my/streets/johor/rm700-million-for-eco-tourism-1.394064