What is Ock Pop Tok's core sustainability philosophy? What sustainable business practices do you follow?
As part of our sustainable development policy, Ock Pop Tok has made a commitment to making all our activities environmentally friendly, in particular by filtering wastewater through sand and charcoal pits, using E.U approved chemical dyes, composting waste material from our café, using locally produced materials for our textiles.
Furthermore we train our staff in energy saving measures, grey water from the Villa is used for our garden, bamboo furniture is used wherever possible for furniture and display materials.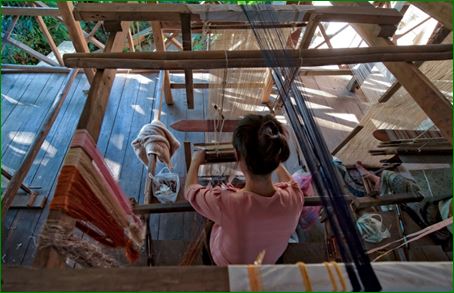 However, our sustainability philosophy is not limited to our environmental practices, but a sustainable enterprise that continues to provide skills development and opportunity with our Lao staff and weavers. We regularly take on interns fostering and training them in specific areas of the business, preparing them for a sustainable professional career with transferable skills.
Our weavers are paid more than three times the minimum wage and have access to social security and benefits. We work with village weavers to provide an access to market for their crafts providing a sustainable source of revenue to these remote areas as part of our Village Weaver Projects.
What programs/ classes do you offer and how do you ensure that guests learn about sustainability and responsible tourism?
Bringing alive our concept of East meets West, all visitors to the Living Crafts Centre receive a free guided tour where they can marvel at the skills of our silk weavers and craft artisans and even meet our silkworm.
The comprehensive tours detail our involvement in slow and eco-fashion practices, sustainable production and tourism, and dedication to fair trade products. Since 2000, we have educated more than 64,000 visitors at our Living Crafts Centre. Our two boutiques also run a daily Shop Talk, which narrates our history and commitment to sustainability.
We also offer a number of classes that allows guests to work with our Lao artisans in silk weaving, natural dyes, batik drawing and bamboo weaving.
Tell us something about your textiles. What's special about them?
Lao textiles have tremendous cultural significance.  The many and diverse ethnic groups of Laos all use textiles to document spiritual, cultural and folkloric traditions. In addition, the textiles of Lao reveal a complex and highly evolved craftsmanship and intricate design and motif vocabulary.
Ock Pop and artisans move this tradition forward by continuing to create textiles as they have been for many generations. And, by providing artisans with materials, design input and access to markets, Ock Pop Tok contributes to the preservation of these skills Tok's weavers.