New Zealand tops perception and performance rankings on sustainable tourism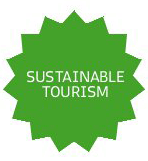 The Global Green Economy Index (GGEI) produced by Dual Citizen Inc., a Washington DC-based consultancy, evaluates the efforts of countries to create environmentally sustainable economies, focusing on efforts to invest in clean energy technology, sustainable forms of tourism, and improved domestic environmental quality. It also seeks to capture how the performance of these countries is perceived internationally.
Results from the 2012 GGEI that evaluated 27 countries, show that expert practitioners perceive Germany as the top national green performer, while an index defined by 32 datasets scoring country performance places Denmark on top.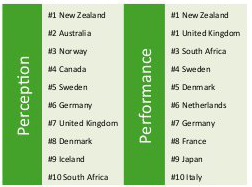 Government efforts to promote sustainable tourism are vital to green economic growth. Results on sustainable tourism indicate that:
New Zealand tops both the perception and performance rankings for the third year in a row
The United Kingdom is tied with New Zealand at the top of the performance index but remains under recognized by experts for its merits in the realm of sustainable tourism.
Most nations covered in the GGEI have failed to formalize green tourism accreditation schemes, reinforcing the notion that 'sustainable tourism' is abstract and hard to quantify.
Most nations do not emphasize sustainable tourism adequately through their national tourism websites, representing a missed opportunity to attract this growing sector of travellers.
The 2012 GGEI also incorporated the first-ever survey measuring green city reputations, which ranked Copenhagen #1, followed by Stockholm, Oslo, Amsterdam and New York.
This city survey ranked perceptions of green performance in the main urban area associated with each of the 27 nations tracked in the GGEI.