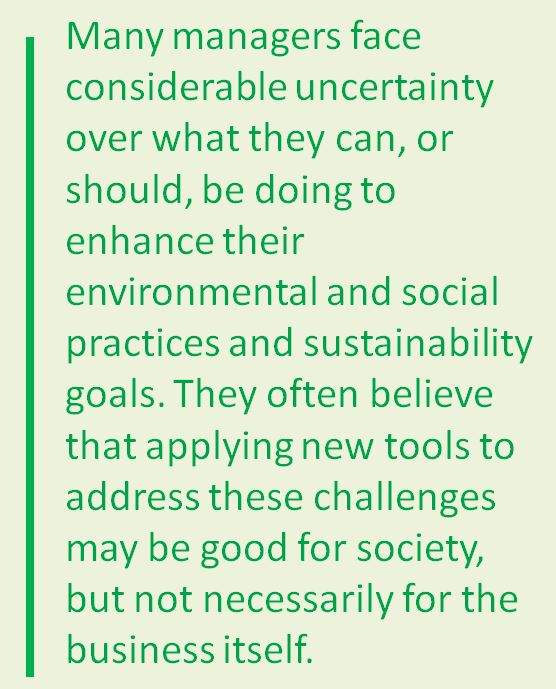 Although many start because of a desire to make a positive impact on the world, they are finding that the results can be significant in terms of real business benefits, such as reduced costs and liabilities, greater service quality, higher customer satisfaction and improved corporate image.
Nevertheless, many managers face considerable uncertainty over what they can, or should, be doing to enhance their environmental and social practices and sustainability goals. They often believe that applying new tools to address these challenges may be good for society, but not necessarily for the business itself.
A lack of understanding of the potential benefits, fear of moving in new directions, confusion over the range of tools available to address sustainability issues, overwhelming and often-contradictory amounts of information are among the reasons why many are slow to act.
Regardless of whether or not you have the word 'sustainability' in your job description, it is increasingly important that you understand what sustainability means, both as a concept, and as a set of decisions and actions that impact your organization.
Extract taken from The Sustainable MBA, 2nd Ed: A Business Guide to Sustainability.
 Published in 2013 by John Wiley & Sons Ltd. The Atrium, Southern Gate, Chichester,
 West Sussex, PO19 8SQ.
 Author: Giselle Weybrecht
This book is for anyone who is interested or curious to know more about the field of business and 
sustainability and how they can apply these ideas to their jobs, regardless of what they do or where
in the world they do it. - See more at: http://www.thesustainablemba.com