Many in the tourism industry are increasingly embracing the sustainability agenda. This includes some of the smallest and largest tour operators, hotel groups and travel trade associations. The next challenge is for the industry to recognise that true sustainability means taking a human rights approach to tourism.
Introduction
A human rights approach means recognising and addressing the multiple human rights impacts and issues associated with tourism. It makes business sense on several levels. This includes risk management, competitive advantage, social sustainability, and business leadership and ethics.
Human rights arguably underpin all three elements of business sustainability: social, environmental and economic. For example, by reducing its water consumption, a hotel not only alleviates environmental impacts and reduces its costs, but may also decrease the risk of infringing on the rights of local communities to clean water and sanitation.
Lack of respect for human rights, leading to environmental degradation and bad community relations, can undermine the tourism destination and product in both the long and short term, which will ultimately impact on a company's bottom line.
The idea of a human rights approach to tourism is nothing new. The UN Guiding Principles on Business and Human Rights clarify and elaborate on the roles and
responsibilities of companies, including tourism stakeholders, in respect to human rights. They present a vital opportunity to build upon and broaden initiatives undertaken to date.
Tourism's potential to contribute to social and economic development is considerable. However, this potential is often undermined by the negative impacts of tourism.
Human Rights Issues in Tourism
Non-profit organization Tourism Concern's report, Putting Tourism to Rights (2009), documents the many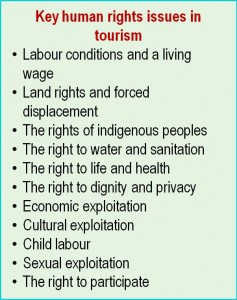 human rights violations that occur as a result of tourism across the world.
These include forced relocation, illegal land acquisitions, pollution leading to ill health and loss of livelihoods, inequitable access acquisitions, pollution leading to ill health and loss of livelihoods, inequitable access of livelihoods, inequitable access to water and other scarce natural resources, cultural erosion, poor pay and working conditions, child labour and sexual exploitation. Typically, these impacts are hardest felt by the poorest and most vulnerable people in society. However, poverty leaves many without a voice, which means the human rights abuses they endure remain hidden.